Nintendo are releasing new Splatoon 2 DLC for the fourth weekend in a row. This time, it's the Splat Brella making a long awaited multi-player debut.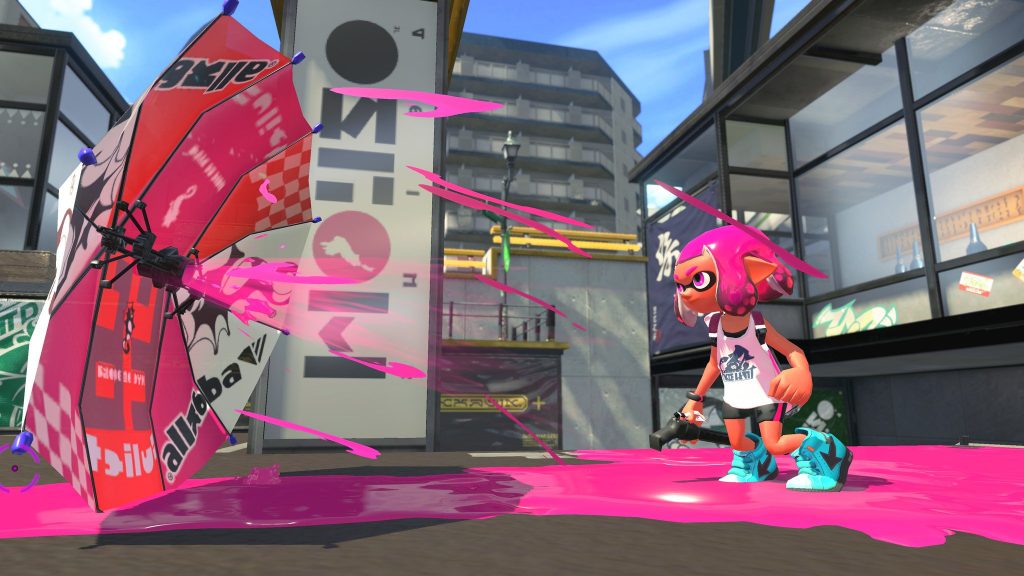 Have you been waiting in anticipating for the Splat Brella, and fawning over it in Hero Mode? Well, starting from 11am Japan Time tomorrow (8/12) – roughly 13 hours from now – you'll be able to get this defensive Weapon in your hands for some online play. The Japanese name for the Splat Brella is "Para Shelter" 「パラシェルター」。
Tomorrow (8/12) at 11am, the new Weapon [Splat Brella] will be added. (JPN: Para Shelter is the Japanese name).
It's named Brella as it's an umbrella shaped Weapon.
Aside from shooting out scattered bullets, continuously holding down the ZR Button will open the Brella letting you defend from enemy attacks.
The Sub Weapon is [Sprinkler] and the Special Weapon is [Ink Storm].
明日8月12日午前11時、新しいブキ「パラシェルター」が追加される。
シェルターと呼ばれるカサ型のブキだ。
ZRボタンで拡散弾を発射するほか、そのまま押しっぱなしでカサを開いて相手の攻撃を防ぐこともできる。
サブは「スプリンクラー」、スペシャルは「アメフラシ」だ。 pic.twitter.com/RuQxuYgiGN

— Splatoon(スプラトゥーン) (@SplatoonJP) August 11, 2017
The Splat Brella is the perfect defensive weapon for objective based Splatoon 2 modes (Ranked and League Battle). The benefits from defending teammates from enemy fire will be felt immediately in all games modes. You can launch the Brella as part of your final offensive push when closing out Rainmaker or Tower Control matches.
On top of that, with the Brella opened, continuously holding down the ZR button will disconnect and shoot out the Brella – you can [Purge] it.
Purge, and hide behind the Brella; while defending from attacks you can move forward.
However – after taking a certain amount of damage, the Brella will break.
If it breaks, or the Brella is shot out, it will take a while to restore.
さらにシェルターは、カサを開いた状態でZRボタンを押しっぱなしにしていると、カサを切り離して飛ばす「パージ」ができる。
パージしたカサに隠れ、攻撃を防ぎながら進むこともできるぞ。
ただし、カサは一定のダメージで壊れてしまう。
壊れたり、飛ばしたカサは、しばらくすれば復活するぞ。 pic.twitter.com/V6IM9jrGoN

— Splatoon(スプラトゥーン) (@SplatoonJP) August 11, 2017
There's also a high resolution render of the Splat Brella, courtesy of the Splatoon 2 Japanese Twitter account.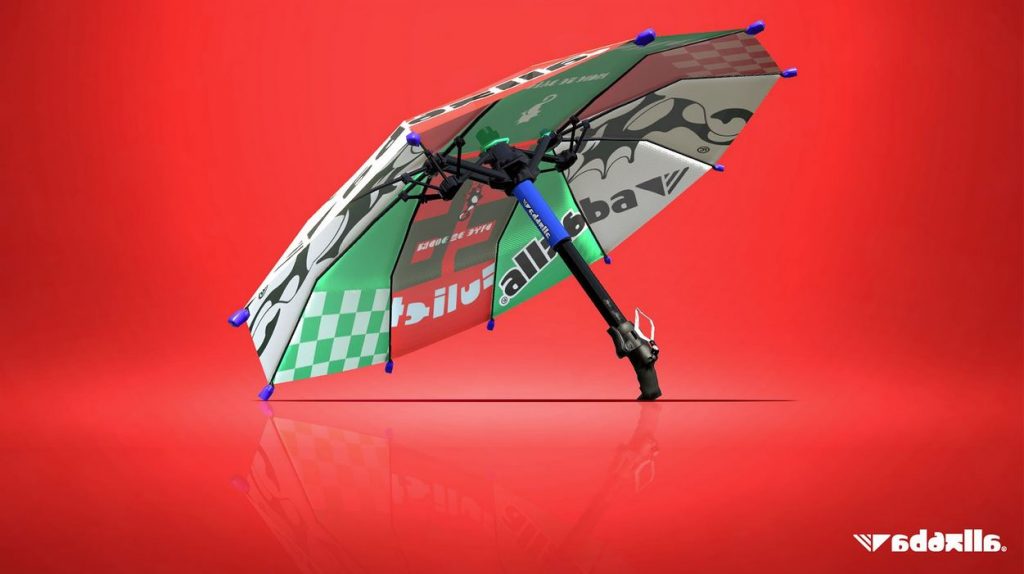 Source: https://twitter.com/SplatoonJP